Those of you who are regular readers will know that I was looking forward to reading this novel. It is an Austen fan fiction cozy mystery written by an author that I first became acquainted with through her Young Adult novels.
Here's the set up: it's a house party starring the Darcys, the Knightleys, the Wentworths, the Brandons and the Edmund Bertrams. Also included are the young Mr. Darcy and a daughter of Catherine Tilney (Juliet) who are the sleuths of the piece. The party takes place at Donwell Abbey and as you may have surmised from the title, the man we love to hate, Charles Wickham is murdered after arriving uninvited. It seems he has been swindling people, including dear Frederick and John Knightly (George's brother, in case you need a refresher).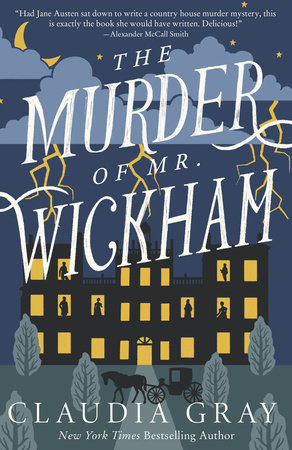 Here's the problem. The murderer, by necessity is a character from Austen that most Janeites love. It has to be a member of the house party, because that's the kind of novel it is. No spoilers here, but this weakens the novel, since a most beloved character is going to have done the deed.
The novel isn't bad. It has moments of real fun, and casting Jonathan Darcy as possibly mildly autistic adds a layer to the story and gives depth to his character. However, I am going to have to be honest and say I thought it was just okay. Partly for the reason I have already given, but partly because it was a little formulaic in the sense that all the couples had some issue during the novel that was related to the murder or Mr. Wickham and then, of course they worked it out by the end. There is one other thing and it is only going to matter to people who are Austen superfans. She plays around with the timeline. Marianne and Brandon have just married while Lizzie and Darcy have been married for 20 years. I know that the timing is correct for Catherine's daughter, but why the disparity between S&S and P&P? In the author's note she says that this is just cheating a little, because there are only "suggestions" that S&S should come earlier. I cry foul. JASNA has pretty good evidence that it should most definitely come earlier, but I digress. It will become clear to the reader in time why this was necessary.
One last howler, that I just can't let go…tea time. [sigh] As in she keeps acting like Regency people had tea time in the afternoon. They didn't, which you can read more about here and here.
If you are the sort of reader who reads all Austen fan fiction no matter what, then this will likely appeal to you. If you need a fun vacation read, it will work for that, too. If you are expecting Carrie Bebris, you will be disappointed.